Book your Ht City Ads with Hindustan Times Instantly Online
Be the first to update the readers on the latest fashion, food, entertainment updates, the biggest parties and events and other Page 3 information with HT City. Advertise with this daily entertainment pullout of Hindustan Times in order to grab the reader's attention. The most happening newspaper advertising platform of the metropolitans is the most appropriate media space one may choose to showcase their business, commercial, travel and other ads effectively.
PUBLISHING DAYS
Booking Deadline
Minimum Size
PUBLISHING DAYS
Minimum Size
Where is Ht City published from ?
LOCATIONS
---
Innovation Option
ADVERTISING INNOVATIONS
---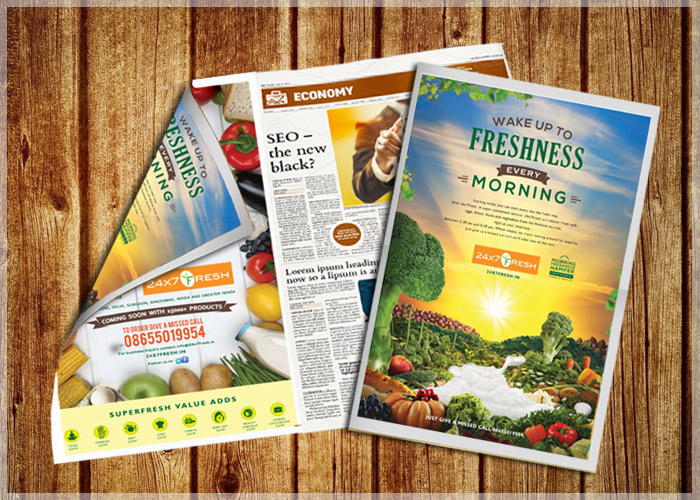 Jacket Full Page Ad
33cm x 52cm
These display ads are placed on the Front Page of the newspaper on both the sides. They are available in the dimensions of 33 cm X 48cm
Half jackets Ad
16.5cm x 52cm
These display ads appear on half of the front page in a newspaper. Half-Jacket ads are available in 16.5 cm X 52 cm dimensions.
Book Mark Ad
3cm x 52cm
Bookmark ads peek out of the newspapers just like a normal bookmark marking the page where your ad has appeared. You can choose to book a full/half-page ad in this case.
Pointers Ad
4cm x 5 cm
Pointer ad appears on the left-most column of the main page. This small ad appears in 4 cm X 5 cm size.
SkyBus Ad
33cm X 5cm
These ads materialize under the masthead of the newspaper in the main page and are 33 cm in length and 5cm in width
Advertorial Ad
Any Size
Publish an article about your product / service - to be placed alongside regular editorial content. You get to choose your headline, text & visuals.
Why advertise in Ht City ?
WHY ADVERTISE IN
Hindustan Times Ht City

?
---
HT City Newspaper Advertising is a proven way to increase your product's brand awareness.The daily entertainment & lifestyle supplement. Hindustan Times readers wake up to fun, entertainment and masala everyday with HT City
The reason we advice you to opt for an agency is that an Ad agency has a stronger negotiation power cause of the bulk transactions it executes in comparison to an individual.
Proof of Execution: Once your HT City Ad is released a soft copy would be shared with you within 3 days of release.
Format for Creative: Ensure you submit your Ad creative in TIFF , PDF or PSD format.
Campaign Track: Once the Ad is confirmed for release, you will receive a notification and you can check your ad physically or via e-paper on the scheduled date.
The high readership and circulation in all the major cities of India, ensures a substantial reach for advertisers to an elite audience, who are usually the major target audience of display advertisers.
3 Important Tips to make your HT City advertisement most effective:
Ad type: HT City is well known for its creative and attractive display ads published by both big and small brands and companies covering all of the Lifestyle, Business, Travel and FMCG sector.
Focus Day: Popular for providing latest entertainment news , HT City is published every day with the main Hindustan Times newspaper, so that you can promote your brand any and every day.It is also essential that you book your ad 2 days prior to the publishing date.
Ad Size: The display ads in HT City have to be published in a certain size. The minimum ad size criterion for display advertisements in HT City is 5cms (W) x 6cms (H) for all editions.
Looking to advertise your lifestyle, commercial, fashion show, a new product or a franchisee inauguration ? Choose HT City ! It is the ideal promotion platform bound to boost your presence and gather the kind of reader response you have dreamt of.